Ah, tonight was much better than the last time. I love it when technology is not a flaming bitch.
Thanks so much for shaking asses, everyone, and for all the compliments. I'm glad y'all enjoyed it.
Special thanks to
DJ Stats
(CHECK OUT HER SHIT) for hooking technical things up in the Black Room. Despite her crusty industrial shell, she's actually a big ol' nougat-y soft sweety at the core. Just don't tell her I told you (she'll be pissed). :P
.
.
.
Bats
The Box - Santa Cruz (industrial/noise/ebm/gothy/punky/post-punk/anything that wears predominantly black)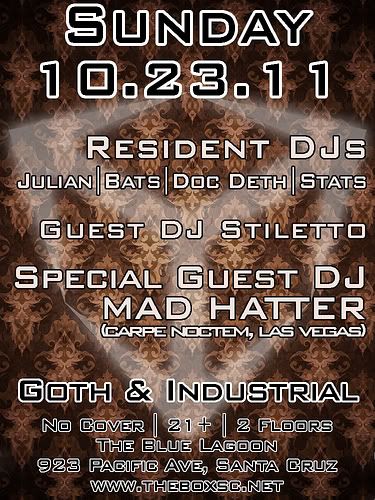 I
Black Room
Angel - Massive Attack
Land of Milk and Honey - Funker Vogt
American Porn Song - 16 Volt
Courtship Dating - Crystal Castles
Bind, Torture, Kill - Suicide Commando
Spill - Demodulate
Princess Chaos (Angelspit remix) - Angelfuckingspit
II
White Room
Cuts You Up - Peter Murphy
Spellbound - Siouxsie and the Banshees
Jumping Someone Else's Train - The Cure
Stigmata Martyr - Bauhaus
Personal Jesus - Depeche Mode (because the combination makes me laugh)
Headhunter V 1.0 - Front 242
Juke-Joint Jezebel (Metropolis mix) - KMFDM
Blue Monday - New Order
Join In the Chant (Burn!) - Nitzer Ebb
Head Like a Hole - NIN
.
.
.
Next week is our big Devil's Night/pre-Halloween bash! WE ARE REALLY FUCKING EXCITED.
I AM REALLY FUCKING EXCITED.
Hope y'all can make it out to celebrate proper with us!! **Heart** because it won't understand the emoticon for some reason [fuck you Blogger]*